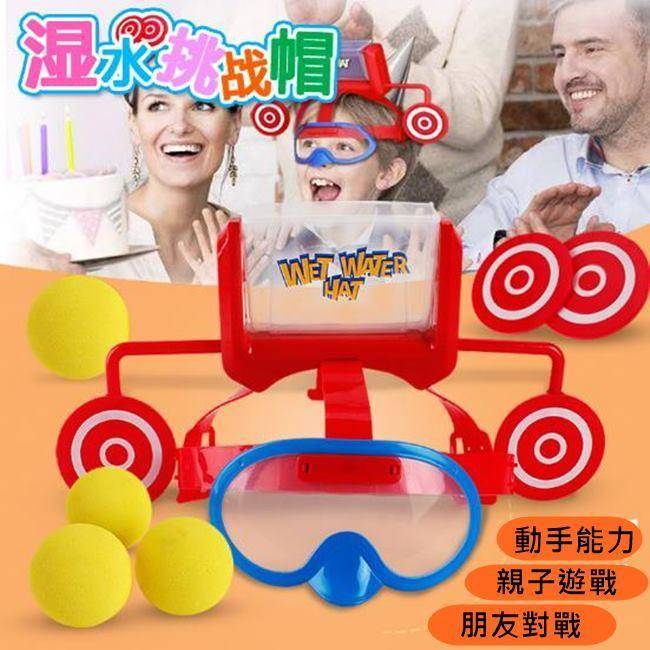 Wet Dunk Hat Challenge Game
整蛊湿水挑战帽子
---
Get Your Friends Wet Now!
In this Dunk Hat game players get 3 throws and 2 targets, but all it takes is 1 shot to tip the tank and win! Players brace themselves, and the suspense grows as 1 player places the hat filled with water on his or her head. The other player throws a foam ball at one of the targets. If they hit it, the water releases and soaks the person wearing the hat. Now, it's time for someone else to wear the Dunk Hat game hat. Who will get soaked -- and who will stay dry -- in this fast-paced, laugh-out-loud game?
Features:
Who will get soaked in this easy-to-play game
Try to soak the person wearing the water-filled hat
Play this hilarious game again and again
Take turns wearing the hat
Ages 5 and up
2 or more players
Adult Assembly Required
WARNING: This is a toy. Does not provide protection.
CAUTION: TO AVOID INJURY: Use only with balls designed for this product.
NOTE: Use only clean tap water to fill the tank, and dry unit thoroughly before storing.
Package Includes:
1 x Dunk Hat with water tank and goggles,
2 x targets,
3 x foam balls
1 x Instruction game rules.

让您朋友一起来对战,看谁先湿透吧!

湿水挑战帽 玩法解说:-
将靶子附在是水帽的两侧
选择一个玩家先穿湿水帽,轮流戴上帽子。
将水倒入水箱后关上盖子。(水箱内可以自行选择放入的物品,例如面粉或是有颜色的液体也可以)
每人有三次投掷的机会来击中靶子,击中后水箱将会倒下来。

** 来发挥您的创意为聚会添加乐趣吧!

产品包括:
1 x 湿水挑战帽
2 x 靶子
3 x 泡沫球
1 x 指令游戏规则

【游戏人数】两人以上
【产品材质】ABS塑料
【产品尺寸】37.5*29cm
【适用年龄】5岁以上